Secure Your Network
Fingerprint. Analyze. Mitigate.
---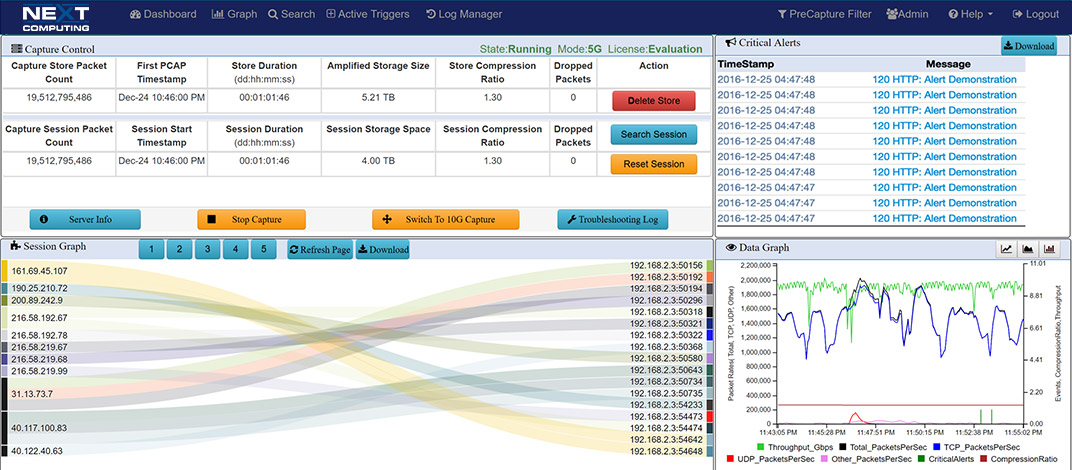 Innovative, Open, Massively Scalable
Packet Capture and behavior visibility
software and appliances
---
Packet Continuum is a powerful software architecture that offers lossless packet capture, fast query retrieval, IDS alerting and a real-time Log Manager. Packet Continuum is disrupting the market with open data access, smooth scale, and long timelines – at very low cost.
Packet Continuum is an "Open PCAP Infrastructure" that can support even the largest enterprise-scale users. Lossless packet capture is the immutable ground truth of any critical event – not merely an interpretation. Enterprise users can "Free Your Data" – i.e. take direct ownership of your own critical network data resource.
Packet Continuum is designed for massive scale via MapReduce distributed computing techniques. Cluster systems may be globally federated for unified search/retrieval, or locally aggregated for lossless capture in excess of 100+Gbps.
Packet Continuum dramatically lowers the cost of long, rapidly-searchable capture timelines. Cluster system flexibility lets you build the right solution for any size network application, targeting Cyber Security, IT Operations or Compliance.
Packet Continuum software deploys on a variety of integrated appliances, including Portable, Deployable and Enterprise-scale.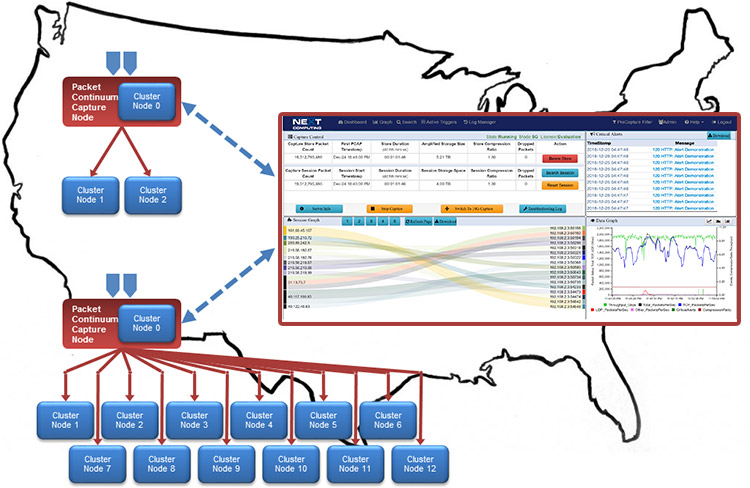 Lossless Capture
A deterministic guarantee to capture every packet; letting you utilize a full network snapshot for diagnosing problems
---
Real Time Analytics
Real-time, user-defined alerts as every packet is indexed and compressed
---
Fast PCAP Search, Streamed Results
Distributed query processing for fast PCAP queries, even across very large timelines
---
---
Open Data Access
View PCAPs & IPFIX records in Wireshark, view log data as CSV
Active Triggers
Multiple Active Triggers can operate simultaneously, and can be changed dynamically by the user, as new threats emerge
---
Log Manager
HTTP, files, DNS, email, user agents, TLS/SSL, VOIP – cross-correlated with PCAP & netflow
---
Real-Time IOC alerts
Active Triggers and Packet Analytics generate Indicators of Compromise (IOC) events which appear as logs in the WebGUI
---
---
Open PCAP Workflows
Playback output to any 3rd party forensic capture tool
Cluster Architecture
A low-footprint MapReduce cluster allows massive scale of packet analytics, PCAP query retrieval, and Forensic Timeline
---
Long Forensic Timelines
A lower cost for maintaining very long timelines on a massive scale
---
Federation
Manage and query multiple systems at diverse geographic locations, all from a single Web GUI