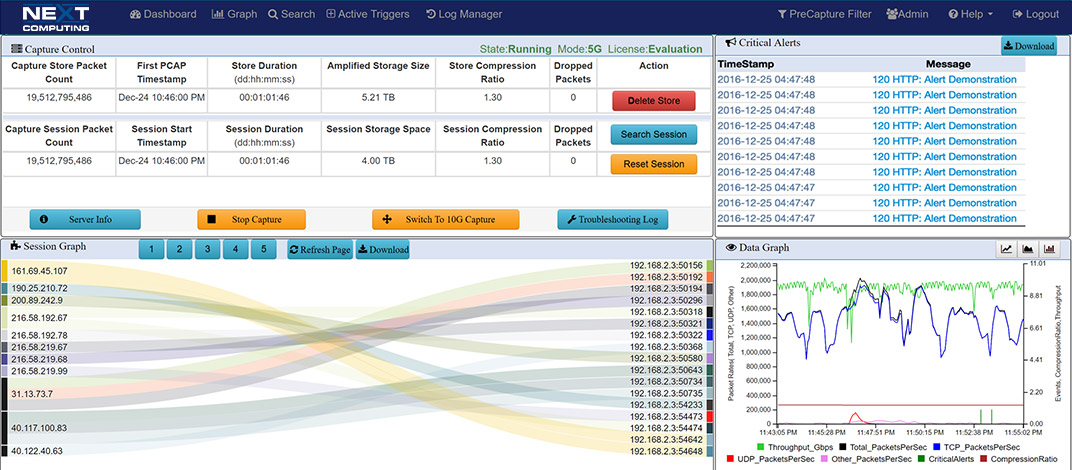 Innovative, Open, Massively Scalable
Packet Capture Solutions
---
Packet Continuum is a software-driven solution for lossless capture to disk and real-time logging of Indicator of Compromise (IoC) alerts for network monitoring, forensics, threat detection, and high-speed ingestion into Big Data analytics solutions.
Packet Continuum is a versatile "open PCAP" solution to free your data from vendor lock-in. It achieves a no-compromise feature set for lossless packet capture and real-time alerting, without the constraints associated with expensive, closed-system capture appliances with proprietary hardware. The result is dramatically lower costs for long, rapidly-searchable, Forensic Capture Timelines. The Open PCAP infrastructure allows multi-vendor access for applications such as security, IT/operations, network performance, and compliance.
The software can be deployed on a wide variety of platforms and form factors such as enterprise-grade commodity servers from leading vendors like Dell and Cisco/UCS, as well as unique portable and deployable capture appliances for diverse environments.
With the increase of network speeds and data throughput, Packet Continuum is the perfect platform for next-generation, high speed, PCAP data management.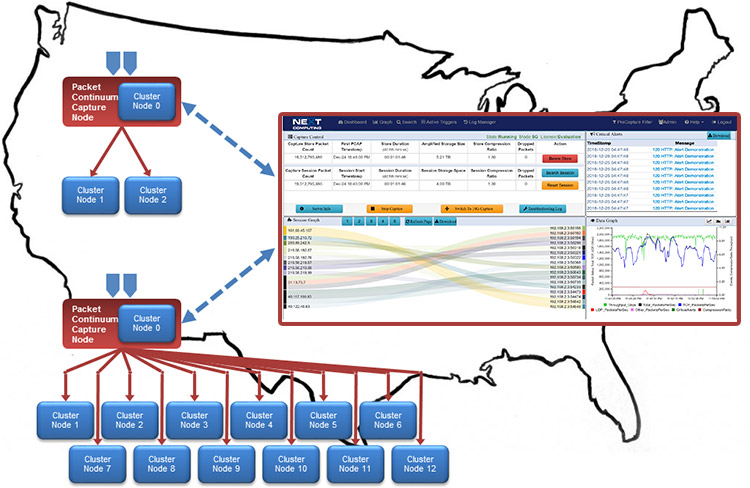 Lossless Capture,
Deterministic Performance
A deterministic guarantee to capture every packet; letting you utilize a full network snapshot for diagnosing problems
---
Real Time Packet Analytics
Real-time, user-defined alerts as every packet is indexed and compressed
---
Fast PCAP Search, Streamed Results
Distributed query processing for fast PCAP queries, even across very large timelines
---
Active Triggers
Multiple Active Triggers can operate simultaneously, and can be changed dynamically by the user, as new threats emerge
---
Packet Analytics
The user can request alerts based on various network transactions and metadata from the session payloads
---
Real-Time IOC alerts
Active Triggers and Packet Analytics generate Indicators of Compromise (IOC) events which appear as logs in the WebGUI
---
Cluster Architecture
A low-footprint MapReduce cluster allows massive scale of packet analytics, PCAP query retrieval, and Forensic Timeline
---
Very Long Forensic Timelines
A lower cost for maintaining very long timelines on a massive scale
---
Federation
Manage and query multiple systems at diverse geographic locations, all from a single Web GUI