cyberpro 1G/10G
Low-Cost, High-Performance, Portable Packet Forensics Appliance for Network Analysts and Cyber Security Investigators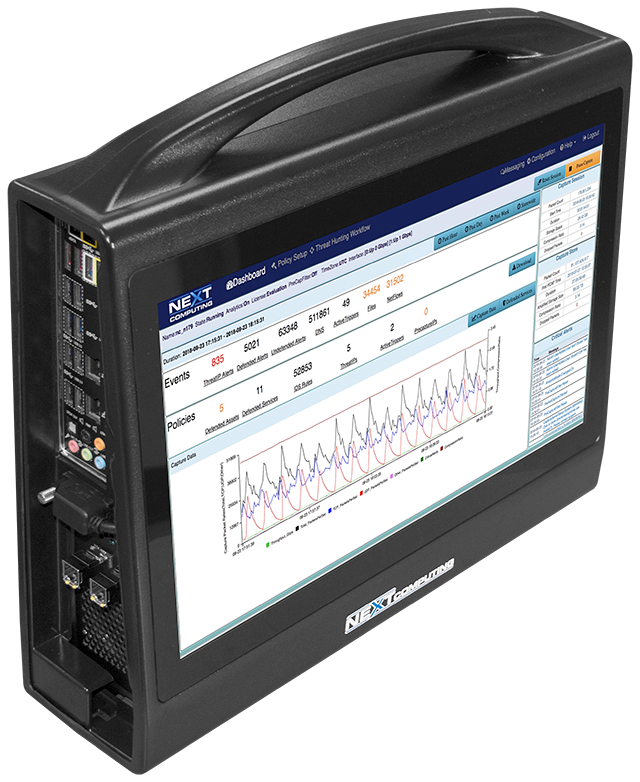 CyberPro 1G/10G is the perfect tool for today's Cyber-Hunters, IT/InfoSec specialists, and field network engineers, whose mission is to keep modern digital IP networks up and running – and fully protected. Grab this portable tool, arrive on-site, plug into the network without disrupting IT operations, and get productive fast!
Within a mobile, lightweight test appliance, CyberPro 1G/10G offers high-speed capture, indicators-of-compromise (IoC) alerting, and fully integrated analytics workflow. View long PCAP forensic timelines based on inline data compression. Find critical incidents for full-session analytics and reconstruction. CyberPro 1G/10G is ideal for network performance monitoring, cyber forensics, compliance enforcement, lawful intercept, and packet data analytics.
---

---
Download CyberPro 1G/10G Datasheet
Click thumbnails to enlarge
Lossless Capture

2 options for lossless packet capture: 1-3Gbps, 5-10Gbps

Simultaneous Search

Stream initial search results of PCAP, NetFlow, and log files to any visualization tool, even while a critical search in on-going. No more waiting for endless query response times!

Active Triggers

Use real-time, dynamic, user-defined Active Triggers and real-time analytics to rapidly direct critical PCAP data for post-processing, using any of multiple third-party open source DPI software packages, conveniently pre-installed and ready-to-use within CyberPro 1G/10G.

Extensive Logging Features

RFC anomaly logging, file download event logging, multi-protocol event / metadata logging. The Log Investigator also allows for search, cross-correlation and extraction: HTTP, files, DNS, email, user agents, NetFlow, TLS/SSL, and VOIP.

Efficient Data Management

CyberPro 1G/10G's built-in PCAP streaming means that no third-party software will "choke" on too much data throughput during PCAP post-processing.

Unified GUI

CyberPro 1G/10G's interactive dashboard drives your investigation workflow. You control capture operations, check the scrolling alert log, and quickly extract PCAP or NetFlow data into Wireshark, or log/metadata findings results into CSV or text. Streaming results are also remotely accessible, both from a host-based WebGUI over the REST interface, and even from a streaming output port into any 3rd party forensics tool.

Visualization

Visualization is pre-installed and hard-wired into the CyberPro 1G/10G workflow, using open industry-standard data file formats: PCAP & NetFlow records open in WireShark; log searches open as CSV files; reports as TXT/RTF files.
Real-Time Analytics Features
Open up to 10 simultaneous BPF-based "Active Triggers". Adjust them dynamically.
Log Investigator events, all with search, cross-correlation and extraction:
HTTP
File event logging, with file size and URL or SMTP reference
DNS
Email
User agents
TLS/SSL
VOIP
NetFlow
Active Triggers (BPF signature)
1000 Snort rules (emerging-DNS, emerging-ftp
System events
Log Investigator search actions:
All logs are time-correlated with PCAPs and NetFlow data
Text string search of logs
NetFlow v9 record logging and search
Choose your results for any search: PCAP, NetFlow, logs, etc.
One-click searches auto-populate time period and search filter (BPF), based on context
CyberPro 1G/10G Open Data Access
Continuous lossless packet capture, with configurations up to 10 Gbps, into a rolling FIFO Capture Store
Searchable data recorder for NetFlow v9 records and log files
Real time indexing and alerting — with time stamping as low as 150 nanoseconds
Data compression in real time — Overall storage amplification up to 10x
Dedicated onboard Extraction Store retains all search query results, retrievable by user-defined name
Options for PCAP (or NetFlow) search results:
View in Wireshark on the local display UI
Remotely access from an external host via Web GUI or REST/API scripting
Run the critical sessions over the Streaming Playback Interface to any 3rd party forensic analysis tool. Simply connect streaming playback output to the capture interface of your tool, just like a span/mirror port.
standards-based policies, with open data access
Open Source Rulesets & Data Interfaces:
Snort/Suricata — IDS alert rulesets
Kibana – open data visualization, compatible with the Elastic ELK stack
JSON – used for open data-interchange and PCAP search parameters
JA3 – TLS/SSL encrypted traffic signatures
MD5 – File Malware signatures
BPF — used for Active Trigger alerts, PCAP search parameters, and pre-capture filtering
Suspicious Alerts & Augmentation – Flexible user-defined lists
Defended Assets/Services — Flexible user-defined lists
TAXII/STIX — pre-packaged rulesets andSuspicious Alerts, supported via structured cyber threat information
Open Data Access, with standard file formats:
PCAP-NG forpacket data
NetFlow Version 9 flow records
Text/CSV/syslog for log enrichment data
Open Workflow Automation & Orchestration:
Simplified URL-based actions, via a full-featured, mature REST/API
Unix Command Line Interface (CLI)
Custom Workflow Scripting
3rd Party Event/Data/PCAP Correlation
Role-Based Access Control
CyberPro 1G/10G Capture Process
Continuous lossless packet capture, with configurations up to 10 Gbps, into a rolling FIFO capture store. A separate extraction store retains PCAP file query results.
4-tuple indexing in real time — IP address source/destination, port source/destination — with time stamping as low as 150 nanoseconds
PCAP compression in real time — Overall storage amplification up to 20x (depending on % of captured traffic that is SSL or video)
Search PCAP data from a convenient web GUI, using easy BPF+ descriptors, immediately streaming the results from capture store to persistent extraction store.
A PORTABLE BUILT FOR SCALE
The CyberPro 1G/10G works as a stand-alone appliance, and several can also joint together for even greater functionality. When you set up multiple CyberPro 1G/10G appliances to capture at different locations, a single analyst use the Federation Manager capability for integrated remote access via unified web-based UI.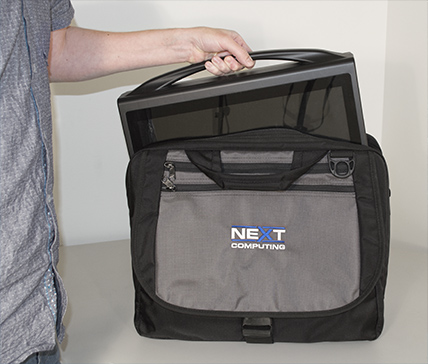 Soft Case
A high-quality, padded carrying bag is included with the CyberPro 1G/10G.
Has room and extra pockets for your keyboard, mouse, cables, and other items
The case can be branded with your logo stitched on the front
Fits in the overhead bin on an airplane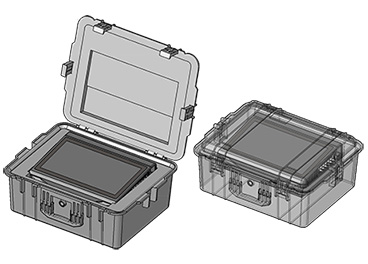 Compact Rugged Case
A compact rugged transport case is also available for the CyberPro 1G/10G.
Internal foam cutout snugly holds the CyberPro 1G/10G, as well as spaces for additional accessories
Fits in the overhead bin of some planes
Exterior dimensions (L X W X D) 24.39″ x 19.36″ x 8.79″ (62 x 49.2 x 22.3 cm)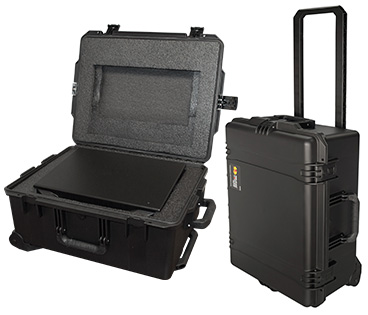 Full Size Rugged Case
Full size rugged case with wheels and telescoping handle.
Internal foam cutout snugly holds the CyberPro 1G/10G, as well as spaces for additional accessories
Can be checked as baggage, while giving you peace of mind that your system is safe
Exterior dimensions (L X W X D) – 24.60″ x 19.70″ x 11.70″ (62.5 x 50 x 29.7 cm)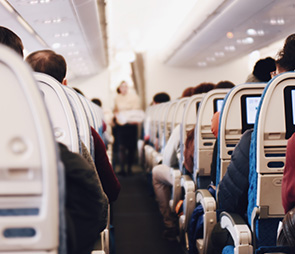 TSA Compliant
System with accessories and soft case is small and light enough to be carry-on
Rugged case and system can be checked as luggage without worry about damage.